Headbanger's Ball
As I mentioned earlier I'm a Lukas Rossi addict... and therefore am also a big follower of Rock Star: Supernova. Oh the drama that's been taking place, I tell ya. But last night I was kinda appalled at the odd forced displays of hopeful
rockitude
.
Lukas kicked off the show with his usual loveliness. Complete with odd movements, intense eyebrow action, and his unique vocal talents. He was great. Sure, he messed up the lyrics a little, but big deal. A couple others were great. Magni, as usual was marvelous, but also as usual; forgettable. Storm pulled off Evanessence quite well. Toby was just hard to handle as per usual. (Sorry Toby fans) Ryan completely terrified me with his over the top piano moves. I think the guy has talent oozing out of places I don't want to even think about, yet as soon as he tries to look like a "rocker" he looks ridiculous. Completely. Taking the award (in my opinion) for most forced performance, though, would have to be Dilana. It was like reliving all the videos that were aired while I was in junior high. The high David Lee Roth-esque leg kicks. The whiplash inducing flailing Twisted Sister hair moves. Absolutely. Sucked. Sure, she can sing, but she just comes off as plastic.
I vote that Ryan should go home tonight. Talented? Hell yeah. Right for Supernova? Not so much. My husband says that Storm will be given the boot. He's probably right; as much as I
can
see her fronting Supernova, she has
not
been referred to as "The Dark Horse"... and that may mean a lot.
On other fronts, I started a sweater yesterday afternoon based on
this
. Since I am admittedly numerically dyslexic, and definitely mathematically challenged, I may have calculated the pattern for a custom-fit sweater for someone other than me. I wouldn't be surprised.
Here's my progress so far: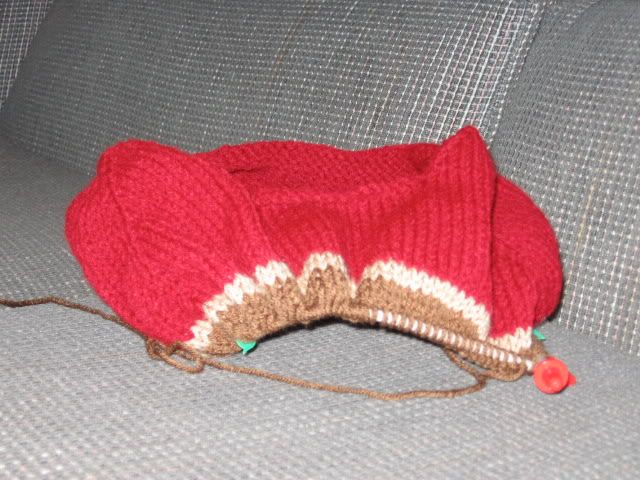 Almost done the "yoke". Yay!